About The Alliance
The Alliance is a statewide network of self advocates, advocacy groups and allies in Illinois.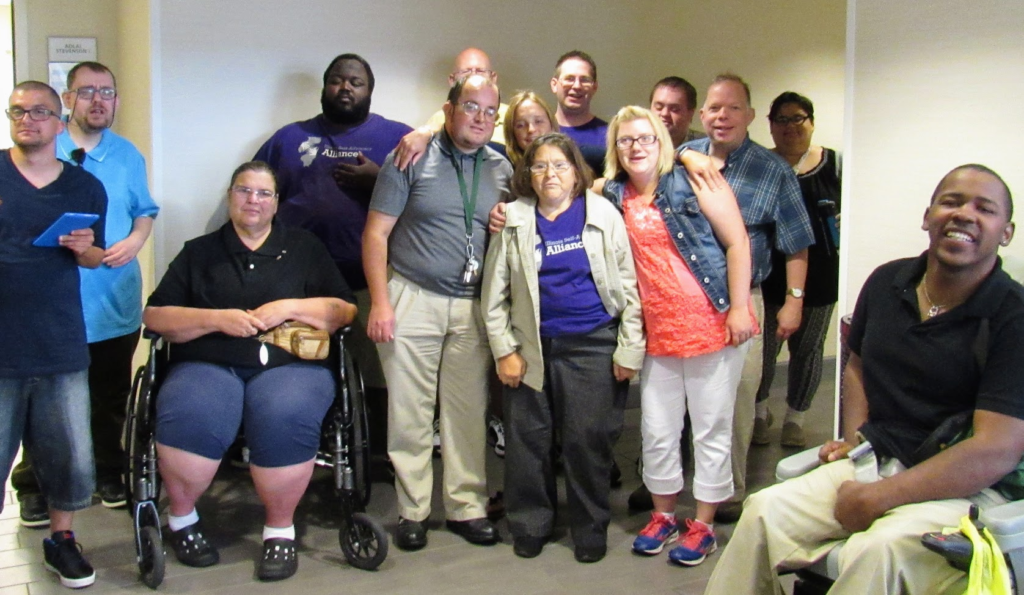 We work together to make life better in our communities and work to make services better for people with disabilities in our state.
Our focus is to empower people to speak up and speak out about what they want/need, don't want/don't need, action plan their goals and participate in advocacy at the personal, community and statewide levels.
We do this through education, trainings and individualized mentoring.
We want advocates and allies from around the state to speak together with one loud voice. We can do more when we all work together!
Click here to learn more about The Alliance.
Photo: Alliance Board of Directors
Join Us
Our Goals
Here are a few of our goals, check out our progress!
40 out of 40 member group chapters
442 out of 300 service provider staff, policy makers and other stakeholders trained
714 out of 250 people trained on personal, systems and statewide advocacy
make a donation
Join The Alliance
Testimonials
You can be a self-advocate at any time and in any place.

I know the pieces of the self-advocacy puzzle - who, what, when, where, why and how - to be a self-advocate.

I know the pieces of the self-advocacy puzzle - who, what, when, where, why and how - to be a self-advocate.

To me, self-advocacy means helping me learn new things and helping others and giving.  

Self-advocacy means learning about rights and about myself like what I want.  I go to my staff when people are not treating me right.  I'm good at working and I want to get a job and career, and I like going places.

We want to learn skills; we want to make changes; and we want to help others.
Latest news
Want to catch up on whats been happening lately? Take a look at the latest Alliance news.
Join Us
Send us a note if you'd like more information about the Training Institute, Ambassadors, starting or joining a member group, receive our newsletter or advocacy related news and events.
Nothing About Us Without Us
Home