Welcome to the Alliance website! The Alliance is a statewide team of self-advocacy groups in Illinois. We work together to make life better in our communities and to work to make services better in our state.
We want groups from around the state to speak together with one loud voice. We can do more when we all work together!
---
Our Vision
Our vision is for self-advocates to work together to get the support we need and to live the life we want in the community.
Our Mission
Our mission is to speak up for ourselves and each other while working together to make changes in our communities and in Illinois.
Check us out on Facebook!
The Alliance has been refunded by the Illinois Council on Developmental Disabilities (ICDD) through April 2021! 
Check out the The Alliance:  The Self-Advocacy Movement Continues! Webinar Recording (Recorded Live on Friday, April 6, 2018) to learn more.  About the Webinar Recording: Join self-advocates and Alliance staff as they celebrate the past 5 years of The Alliance and share exciting information about the next 3 years including the new Alliance application and member levels and benefits! 
​Also attached are the following documents referenced during the webinar:
Please Note: ​We are asking all current member groups to complete and submit the Alliance Membership Application so that we know what membership level you desire and can plan for staff support over the next three years!
 
Last summer the Illinois General Assembly granted a 75-cent hourly wage increase after giving nothing to DSPs for nearly a decade. But the average starting pay for DSPs has only now reached above $10 – far less than wages paid by retailers, warehouses, and even fast food restaurants.
There are two bills – SB 3508 and HB 5622 – just filed in the Illinois General Assembly that would provide a long-overdue solution to the state's DSP staffing crisis by raising starting wages for DSPs to $13.50 in July 2018 (FY'19) and ramping up to $15 per hour in July 2020 (FY'21).
Please visit theydeservemore.com for more updates and action steps. Please share your stories if you or a loved one have been impacted by low DSP wages.
Please maximize the power of your networks by sharing this updated fact sheet, the new They Deserve More website, and their Facebook and Twitter pages. We invite you to voice your support with the hashtag #TheyDeserveMore.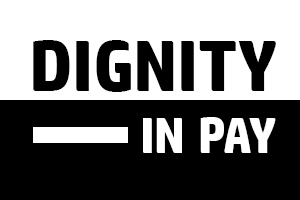 Many people with disabilities are being paid way below the minimum wage, and it's perfectly legal. We can do better. With creativity and commitment, we can build more integrated, supported and customized work opportunities for all people. It will take a lot of thoughtful planning and system change, but if we are willing to embrace bold change, Illinois can responsibly phase out subminimum wages.
Other states are leading the way in reforming the systems that perpetuate segregated, isolated, dead-end jobs for workers with disabilities. Extensive research confirms that people with "significant" disabilities who want to work and receive proper support can contribute to the workforce in a significant way.
The Alliance is proud to be funded through April 2021 by the Illinois Council on Developmental Disabilities (ICDD).