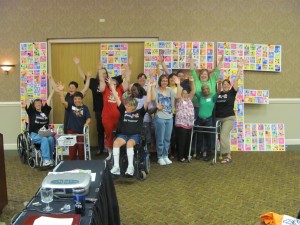 Our History
The Alliance was created in 2008 by a group of Illinois self-advocates. This group was part of a 2006 project funded by the Illinois Council on Developmental Disabilities to strengthen the self-advocacy movement in Illinois. During the project, this group spoke to over 800 self-advocates from across the state and learned a lot about what self-advocates want to make life better. Then, they presented what they learned to self-advocacy groups throughout the state. During this process, they realized that the best way to strengthen the self-advocacy movement in Illinois is to form a network of self-advocacy groups. The groups would speak with one voice and work together to make change. The group named itself The Illinois Self-Advocacy Alliance, or "The Alliance."
In 2009, The Alliance received money from the Council to develop an independent group of self-advocacy groups across the state. The Alliance Transition Team is meeting with local self-advocacy groups around the state to increase our membership. We can make a difference when we work together and speak with one voice! If you'd like to join, click here.
What We Do
The Alliance is all of the self-advocacy groups from around the State. We do two things:
 1. Support Local Groups
 We can accomplish a lot when we support each other to reach our goals! Alliance leaders will visit local self-advocacy groups to find out how the Alliance can help each group. The Alliance can help by:
Spreading the word about a local event

Sharing ideas about what other groups have done

Holding regional meetings to discuss issues, plan activities, and have fun

Inviting you to get involved in statewide actions to make change
2. Work Together on Important Issues
We want self-advocacy groups from around the state to speak together with one loud voice about our services, transportation, jobs, community housing choices, and other issues that affect our lives. When we work together, we can make a difference in our own lives, in our communities, and across our State.
We will work together in several ways. We will:
We will gather information from Alliance members about important issues to develop position statements . These statements will help others understand what we believe.

We will use our position statements to deliver a clear message with one voice to policy makers and others.

We will plan state actions on issues that are important to us.

We will support each other at the state level to promote self-determination, self-advocacy, and the rights of people with disabilities.
Current Partnerships
Illinois Imagines is a statewide project to improve services to people with disabilities who have been victims of sexual violence. The project is directed by the Illinois Department of Human Services, Illinois rape crisis centers, disability service agencies and self-advocates.  Learn more at www.illinoisimagines.org.
Envision Illinois is a statewide project to improve services to people with disabilities and Deaf people who have experienced domestic violence.  The project is directed by the Illinois Department of Human Services, Illinois domestic violence centers, disability services agencies and self-advocates
Proud & Included is an initiative developed to serve individuals in Cook County with Intellectual/Developmental Disabilities (IDD) that identify as LGBTQ. This project is designed to empower adults with IDD and assist in their integration into the larger LGBTQ community through self-advocacy and event participation.   Learn more at www.proudandincluded.org.
Board of Directors
The Alliance Board of Directors is made up of representatives from our member groups. We have 8 self-advocates on our board. They are:
Randy L., President (Speak Out QCA, Rock Island)

Tavaris W., Vice-President (PossAbility Partners, Chicago Heights)

Adam C., Secretary (The Network, Alton) 

John B., Treasurer (Livingston County Advocates in Action, Pontiac)

Larry B., (Change to Independence Altogether (CIA), Normal)
James C. (Self-Advocates of Lake County, Zion)

Richard H. (CAPS, Decatur)

Melissa J. (CTF Advocacy Center, Charleston)


Tom N. (Envision for Freedom, Chicago)
The Alliance Staff
Tara Ahern, Community Organizer               
Krescene Beck, Program Coordinator           
Leanne Mull, Organizational Coordinator      
Tracey Wyant, Ambassador Mentor             
Brochures
Want to share about The Alliance with friends?  Print out an Alliance brochure!  The brochure is available in English and in Spanish.