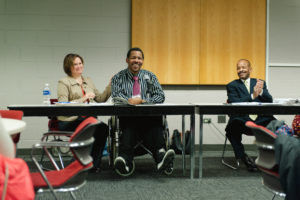 The Alliance has presentations that can be done at your agency/organization or in your community. We can present to individuals with disabilities, staff, disability professionals, family groups, students in transition, community groups and organizations:
Self Advocacy Overview (*WIOA Compliant)


Self Advocacy Matters

Bridging the Gap Between Dreams and Reality

Dare to Dream

Dreaming New Visions

Expect the Best: How To Get The Most Out of Your Support Staff

How to Connect with Your State Legislature

Woo Hoo…I've Got a Job Interview!  Now What?

Stop Bullying Now

The Power of Dreams

You're on Board

Guardianship and You

It's All About RESPECT

Universal Design: It's More Than Large Print and Accessible Restrooms

Project VOTE
To learn more about the Training Institute, please contact Tara Ahern, Disability and Advocacy Director, at tara.advocacy@gmail.com.
---
Training Institute