Self Advocacy Certification:
The Alliance has begun implementing a process to support the development of and immersion into a culture of self-advocacy at agencies/organizations that serve people with disabilities.
The Alliance works with agencies to provide the following:
 Training on self-advocacy for people receiving services
 Training on self-advocacy for agency/organization staff
 Resources for implementing environmental changes as identified in the Action Plan
 Provide ongoing training, resources, and consultation related to creating a culture of self-advocacy as  identified in the Action Plan
 Provide CEU's for agency/organization staff who participate in formal training provided by The Alliance
Participating agencies agree to work in cooperation with The Alliance and shall complete the following:
 Start a self-advocacy group if one is not already present at the agency/organization
 Join The Alliance as a member group at the Silver or Gold membership level if not already a member at either level
 Identify a Self-Advocacy Inclusion Team consisting of:
 Assist in the coordination of a two-day event to initiate the culture of self-advocacy certification
 Complete an Environmental Checklist
 Develop an Action Plan that contains a minimum of two (2) areas of opportunity as identified on the Environmental Checklist
 Identification of two (2) self-advocates to participate in The Alliance's Ambassador Leadership Program
 Provide monthly updates on progress towards Action Plan goals
---
If you would like more information, please contact Krescene Beck, The Alliance's Organizational Director, at [email protected] We can't wait to hear from you!
---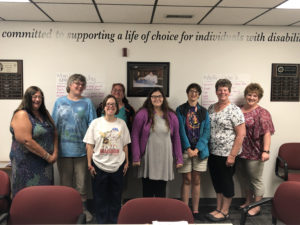 Alliance staff working with TCRC on their self advocacy certification!
Self Advocacy Certification